Mary Ann
Bruns
Ph.D.
Education
Ph.D., Crop and Soil Sciences, Michigan State University, 1996

M.A. Urban and Regional Planning, Environmental Sector, Univ. of Iowa, 1988

M.S. Food Science and Technology, Univ. of Nebraska, 1978

B.A. Microbiology, Univ. of Nebraska, 1974
Responsibilities and Interests:
Research in the Bruns lab aims to gain understanding of soil microbial responses to anthropogenic disturbance and of microbes' roles in mitigating disturbance effects.
Humans are constantly altering the face of the Earth—through forest clearing, urban development, agricultural cropping, strip mining. When soils are subjected to drastic disturbances, their complex biological networks are also disrupted. Well-established interactions among roots, fungi, other microflora, and micro- and macrofauna are all destroyed once vegetation is removed and soil is upturned, buried, or eroded away. Humans have little understanding of the ecosystem services performed by these underground biological networks or the impacts their losses may have on global biogeochemistry.
We are studying nitrogen transformations in agricultural and urban soils; microbe-mineral-plant interactions and biological crusts that form and stabilize soils in acid mine drainage "kill zones" caused by overland flow of discharge from an abandoned underground coal mine; and carbon and nitrogen fixation by bacterial communities in soil crusts and in bedrock-regolith interface zones where soil formation is initiated.
We combine molecular, microbiological, biochemical, microscopic, and mineralogical techniques to explore microbe-mineral-plant interactions.
Appointment:
30% Teaching
70% Research
Courses Taught:
Soil Ecology (Soils 412W, 3 cr, every fall, undergraduate)
Environmental Soil Microbiology (Soils 512, 3 cr, spring of even years)
Links:
A Legacy in the Soil - Follow the story of a young woman who returns to her family's homestead to help clean up soils contaminated by acidic mine drainage.
Allegheny Branch of the American Society for Microbiology (ABASM)
Research Areas and Relevant Publications
Microbe-mineral interactions in soil formation and development
Minyard ML, Bruns MA, Liermann LJ, Buss HB, Brantley SB. In press. Bacterial associations with weathering minerals at the regolith-bedrock interface, Luquillo Experimental Forest, Puerto Rico. Geomicrobiol J.
Minyard ML, Bruns MA, Martínez CE, Liermann LJ, and Brantley SL. 2011. Occurrence of halloysite nanotubes and bacteria in a granodiorite weathering front, Rio Icacos Watershed, Puerto Rico, Soil Sci Soc Am J. 75:348-356.
Buss HL, MA Bruns, MJ Schultz, J Moore, CF Mathur, and SL Brantley. 2006. The coupling of biological iron cycling and mineral weathering during saprolite formation, Luquillo Mountains, Puerto Rico. Geobiology 3: 247–260.
Biological activity and restoration of acid mine drainage kill zones
Senko, J.M., G. Zhang, G.T. McDonough, M.A. Bruns, and W.D. Burgos. 2009. Metal reduction at low pH by a Desulfosporosinus species: implications for the biological treatment of acidic mine drainage. Geomicrobiology J., 26:71–82.
Senko, J.M., P. Wanjugi, M. Lucas, M.A. Bruns, W.D. Burgos. 2008. Characterization of Fe(II) oxidizing bacterial activities and communities at two acidic Appalachian coalmine drainage-impacted sites. ISME J. 2:1134–1145.
Machulla G, MA Bruns, and KM Scow. 2005. Microbial properties of mine spoil materials in initial stages of soil development. Soil Science Society of America Journal 69:1069–1077.
Impacts of mulching on soil organisms and biogeochemical processes
Byrne, L.B., M.A. Bruns, and K.C. Kim. 2008. Ecosystem properties of urban land covers at the aboveground-belowground interface. Ecosystems 11:1065–1077.
Biohydrogen production from wastes
Luo, Y.H., H. Zhang, M. Salerno, B.E. Logan, and M.A. Bruns. 2008. Organic loading rates affect composition of soil-derived bacterial communities during continuous, fermentative biohydrogen production. Internatl J Hydrogen Energy 33:6566–6576.
Zhang H, MA Bruns, and BE Logan. 2006. Biological hydrogen production by Clostridium acetobutylicum in an unsaturated flow reactor. Water Research 40:728–734.
Oh S-E, P Iyer, MA Bruns, and BE Logan. 2004. Biological hydrogen production using a membrane bioreactor. Biotechnol Bioengineering 87:119–127.
Biotreatment of animal wastes
Kim, J.R., J. Dec, M.A. Bruns, and B.E. Logan. 2008. Removal of odors from swine wastewater by using microbial fuel cells. Appl. Environ. Microbiol. 74:2540–2543.
Wheeler, EF, PA Topper, RE Graves, MA Bruns, and C Wysocki. 2007. Odor reduction performance of constructed wetland treating diluted swine manure. Applied Engineering in Agriculture 23(5):621–630.
Castillo-Gonzalez HA and MA Bruns. 2005. Dissimilatory iron reduction and odor indicator abatement by biofilm communities in swine manure microcosms. Appl. Environ. Microbiol. 71:4972–4978.
Microbially mediated sulfur and metal transformations in soils
Martínez, CE, CE Yáñez, SJ Yoon, and MA Bruns. 2007. Biogeochemistry of metalliferous peats : Sulfur speciation and depth distributions of dsrAB genes and Cd, Fe, Mn, S, Zn in Soil Cores. Environ Sci Technol. 41:5323–5329.
Microbial community analysis
Turich, C, KH Freeman, MA Bruns, M Conte, AD Jones, and SG Wakeham. 2007. Lipids of marine Archaea: Patterns and provenance in the water-column and sediments. Geochim Cosmochim Acta 71:3272–3291.
Zhang, H, Logan BE, Regan JM, Achenbach LA, Bruns MA. 2005. Molecular assessment of inoculated and indigenous bacteria in biofilms from a pilot-scale perchlorate-reducing bioreactor. Microbial Ecology 49:388–398.
Nitrogen transformations at aboveground-belowground interface
Adviento-Borbe MAA, Kaye JP, Bruns MA, McCoy M, McDaniel MD, and Harkcom S. 2010. Greenhouse gas and ammonia emissions in a long-term rainfed maize-based cropping systems experiment. Soil Sci Soc Am J. 74(5):1623-1634.
Visiting Scholars
Rosemary Gutierrez, ASM International Professorship Fellow (June-Nov 2011), University of Baguio, Philippines
Current students
Xin Peng, Ph.D. candidate in Ecology
Research: Nitrogen fixation by surface biological crusts

Tania Galindo, Ph.D. candidate in Soil Science
Research: Nitrogen transformations in surface biological crusts

Claudia Rojas, Ph.D. student in Soil Science with dual major in Biogeochemistry
Research: Biological restoration of land affected by acid mine drainage
Where Are They Now?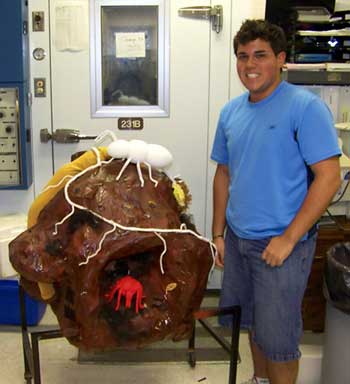 Summer lab visitor Bernie Martir, who is an undergraduate engineering student at University of Puerto Rico-Mayaguez, made needed renovations on 'Claude the Clod', our 4000x scale model of a soil macroaggregate with its associated organisms. Thanks to Bernie's engineering and artistic talents, Claude now sports much more realistic depictions of the springtail and mite, members of the two most abundant microarthropod groups in soils. Thanks, Bernie!
M.S. Graduates
Pauline Wanjugi, M.S. Soil Science (2008), Integrated Biosciences Ph.D. program, University of South Florida, Tampa, FL
Mary Kay Lupton, M.S. Soil Science (2008), Research Technician, Soil Characterization Lab, Penn State
Ph.D. Graduates
Yonghua Luo, Ph.D. Soil Science (2007), Postdoctoral Researcher, USDOE National Renewable Energy Laboratory, Golden, Colorado
Loren Byrne, Ph.D. Ecology (2006), Assistant Professor of Biology, Roger Williams University, Bristol, RI
Jody Gibson, Ph.D. Soil Science (2005), TGE Resources, Inc., Houston, TX, now in Bakersfield, CA
Hugo Castillo, Ph.D. Ecology (2005), Facultad de Zootecnia, Universidad Autonoma de Chihuahua, Mexico
Morgan L. Minyard, Ph.D., Soil Science and Biogeochemistry, 2010, U.S. Department of Defense, Aberdeen, MD
Maina Martir-Torres, Ph.D., Soil Science and Biogeochemistry, 2010, U.S. Department of State, Washington, DC

Visiting Scholars
Dr. Radha Prasanna, (Sept-Dec 2010), Indian Agricultural Institute, New Delhi
Postdoctoral Scientists
Emily Fleming, Postdoctoral Associate (2008), Bigelow Laboratory for Ocean Sciences, West Boothbay Harbor, Maine
Prabha Iyer, Postdoctoral Associate (2004), J. Craig Venter Institute, Rockville, MD
Biotechnology Rotation Students
Kyle Elkin (2008–2009)
Jaquelyn Teresky (2009–2010)
Shilpa Kumar (2010–2011)
Undergraduate Research "Alumni"
Habiba Isa, (2010–2011), graduated with B.S. in Biochemistry and Microbiology, 2011, currently working as a molecular biologist at the Malaysian Genomics Resource Centre (http://www.mgrc.com.my/).
Chantel Evans-Dixon, MURE (2007–2008), rising senior in Food Science at Penn State
Julie Bowdle (2007), received B.S. in Soil Science and entered graduate program in Engineering, UC Berkeley
Wayne Lehman (2004–2005), received B.S. in Ecology and M.S. in Environmental Pollution Control from Penn State and now works for Schuylkill Conservation District
Amber Lockawich (2005), received B.S. in AgroEcology
Dan Thetford, Discovery Grant (2005), received Soil Science B.S. from Penn State
Margaret-Hannah Emerick, WISER (2005)
Jen Lundy (2005–2006), entered Medical Technology program after graduating
Erica Petrie (2004), Ag & Biological Engineering Honors Program
Carrie Anderson (2004), entered Medical Technology program after graduating
Matt Schultz, BRIE Summer Fellow (2004)
Sandra Campos, BRIE Summer Fellow (2004)
Krystal Hamlett, BRIE Summer Fellow (2003), graduated from Lincoln University in 2006, currently enrolled in Biotechnology MS program at Johns Hopkins University
Summer Holmes, MURE (2003), Mount Sinai Medical School, New York City
Taco Williams, BRIE Summer Fellow (2002)
Jennifer Quinlan (2002)
Research Interests
Document Actions