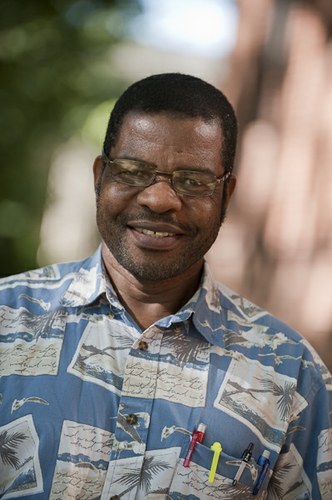 Ephraim

Muchada

Govere

,

CPSS
Director, Soil Research Cluster Laboratory
457 Agricultural Sciences and Industries Building
University Park
,
PA
16802
Education
Ph.D., Soil Science, The Pennsylvania State University
M.S. Agronomy, The Pennsylvania State University
MBA, Business Administration, University of North Alabama
M.Ed. Educational Administration, The Pennsylvania State University
Post Grad. Cert. Educ., University of Zimbabwe
B.S., Forest Management, Oregon State University
Teacher's Cert. Educ., Mutare Teachers' College, Zimbabwe
Responsibilities and Interests
Management and Administration
I direct and manage the operations of a multi-function, multi-user Soil Research Cluster Laboratory (SRCL) in the Department of Ecosystem Science and Management (ESM), College of Agricultural Sciences at The Pennsylvania State University. The SRCL is an educationally-based multi-function, multi-user analytical laboratory in the College of Agricultural Sciences and provides students, faculty and staff access to instrumentation and equipment that may not be available in individual laboratories and that find common use by several research groups. Unlike many laboratories that run routine methods of analysis, the SRCL provides the opportunity for faculty, research fellows, postdocs, laboratory technician and technologists, and graduate and undergraduate students to be guided in developing and testing novel methods suited to their research efforts. The SRCL analytical instruments and research methods and procedures are not limited to soil; they also have been employed in the analysis of plant and animal extracts and digests; water and waste water; biosolids; and geologic and synthetic materials. The main objectives of the SRCL include:
Providing centrally accessible instrumentation and equipment for chemical analyses of soils, water mixtures, biosolids, biological and detrital samples, and geologic materials in support of research.
Providing centrally accessible instrumentation and equipment for soil physical, pedological, and hydropedological analyses in support of research.
Building, preserving and upgrading the knowledge and skills required for the optimal operation and research capability of the SRCL by developing analytical procedures suited to individual research needs.
Teaching faculty, staff and student researchers to apply analytical instrumentation, knowledge and skills most fruitfully.
Supporting teaching activities and encouraging classes to use current analytical equipment in the SRCL to obtain hands-on experience in soil, plant, water, and environmental analyses as well as in quality assurance and control procedures.
Ensuring that efficient means exist for students, staff and faculty to produce timely, accurate, and validated analytical results.
Teaching
SOILS 804 - Soil Ecosystem Analytical Techniques
SOILS 804 is a three-credit quantitative laboratory instrumentation course that is designed to give students a deeper understanding and application of modern laboratory instrumental techniques for the isolation, identification, detection, and quantitation of soil ecosystem chemical substances. Upon completion of the course, students should be well versed in appropriate techniques used to collect and process a sample and measure the chemical constituents and assess the condition of soil ecosystems: soil gases; soil inorganic and organic solids, and soil solutions/digests/extracts. Instrumental techniques covered in the course include spectroscopic, chromatographic, spectrometric, electrochemical, and thermal methods for soil ecosystem measurements. As such, the course has laboratory and lecture components. In the lectures, students learn good laboratory practices, sampling and sample processing and preparation methods, selection of analytical instruments and the chemical and/or physical principles exploited during the measurement, how the instrument performs the measurement and some of the techniques used to increase accuracy, precision, sensitivity, selectivity, and measurability. In the laboratory, students will put the theory and principles into practice by performing various analytical experiments designed to provide examples of the usefulness of selected instruments or techniques in a way that will enable the student to understand and operate a wide range of other related instruments for soil ecosystem analyses. Thus, while the laboratory experiments and demonstrations will illustrate some of the applications of the instruments, students will be expected to develop a deep understanding of the advantages and disadvantages of different instrument analytical techniques in terms of their usability, sensitivity, cost, and other parameters with emphasis on the applicability and complementarity of different techniques to soil ecosystem chemical measurements.
SOILS 896: Individual Studies
This course provides opportunities for students to select an analytical technique or techniques of their interest and be guided through the method application process to achieve their thesis research and/or professional development goals. Available analytical techniques include spectroscopic, chromatographic, spectrometric, electrochemical, and thermal analytical techniques. Students can register for 1, 2, 3, 4, or 5 credits depending on the number of techniques selected and implemented.
SOILS 897a: Special Topics: Ecosystem Laboratory Quality Control
A two-credit advanced course that gives an overview of the necessary actions to be taken to make sure that ecosystem analytical data of known quality objectives are obtained. The data quality objectives covered in the course include accuracy, bias, trueness, recovery, precision, sensitivity, instrument and method detection limits, decision limits, calibration lower range limits, homogeneity of variance and linearity tests, selectivity, specificity, measurability, reliability, validity, timeliness and control charts. Implementing a quality control program is one of the requirements to be in compliance with the U.S. Environmental Protection Agency's Good Laboratory Practice Standards.
SOILS 897b: Special Topics: Sample Preparation Techniques for Ecosystem Measurement
A two-credit advanced course that is designed to give students a deeper understanding of ecosystem sampling for chemical analyses. The goal is to ensure that ecosystem data generated from ecosystem research and routine analysis are not scientifically defective but scientifically reliable. Data can only be reliable if and only if proper sampling, sample preservation, sample preparation, sample analysis, quality control, and good laboratory practices are documented and strictly followed. Sampling is the first step in ecosystem analysis. If this first step is not done right, the analytical data will be inaccurate even if all the subsequent protocols were followed properly.
AG 160S - Introduction to Ethics and Issues in Agriculture
AG 160S is a three-credit course that introduces students to contemporary issues, ethical theories and principles, and the application of critical thinking and communication skills related to topics in agriculture, renewable natural resources, and the environment.
Research Interests
Development of instrumental methods of analysis applicable to soil chemistry, soil fertility, soil physics, pedology, and hydropedology.
Development of measuring and analysis technology.
Development and implementation of quality assurance and quality control procedures in soil analytical laboratories.
Selected Publications
Govere, E. M. (2017). The Role of International Chemists in Developing Countries and the Pre-Requisite for Their Success. In Mobilizing Chemistry Expertise To Solve Humanitarian Problems Volume 2 (pp. 21-48). American Chemical Society. DOI: 10.1021/bk-2017-1268.ch003

Govere, E. M. (May 1, 2016) The Global Science Era: As international collaboration becomes increasingly common, researchers must work to limit their own biases and let cultural diversity enhance their work. The Scientist.

Govere, E.M., M. Tonegawa, M.A. Bruns, E.F. Wheeler, K.B. Kephart, J.W. Voigt and J. Dec. 2007. Using minced horseradish roots and peroxides for the deodorization of swine manure: A pilot scale study. Bioresource Technology, 98 (6), 1191-1198.
Govere, Ephraim M. 2006. Guidelines on Determining and Reporting Significant Figures in Chemical Measurements (Handbook). Journal of Chemical Education (JCE) Books Online, 2006;
Govere, E.M., M. Tonegawa, M.A. Bruns, E.F. Wheeler, P.H. Heinemann, K.B. Kephart, and J. Dec. 2005. Deodorization of swine manure using minced horseradish roots and peroxides. Journal of Agricultural and Food Chemistry, 53 (12): 4880 -4889.
Govere, E.M, S.H. Chien, and R.H. Fox. 2004. Iron oxide-impregnated paper (Pi) vs. Bray-1 soil-test methods predicting crop response from phosphate-rock sources. Communications in Soil Science and Plant Analysis, 35:1981-1993.
Publications
The global science era
Scientist, Govere, Ephraim M., 2016