Anthropogenic Imprinting on Soil and Ecosystem Function
The United Nations Environment Program estimates that 23% of all land has been degraded to some extent (Raskin and Kemp-Benedict, 2004), and industrial development (including mining) has specifically degraded 19.5 million ha (Raskin and Kemp-Benedict, 2004). Coupled with changing climate, management of degraded lands is a substantial challenge facing humanity (Herrick and Beh, 2015), but it is arguably an easier problem to solve than climate change (Herrick et al., 2013a). Increasing population and caloric intake (Kearney, 2010) coupled with climate change will likely have a negative effect on food security in many regions (Africa and Asia in particular). Across many of these same regions soil degradation has already substantially reduced food production and a variety of ecosystem services (Lal, 2001). Our research is focused on examining human imprinting on soils across a variety of land uses in order to promote functional land management under sustainable intensification of commodity development.
Changing landscapes, changing soils.
Several of our projects are investigating physical and biogeochemical changes in wetlands and forest land, marginal lands, mineland and urban/suburban soils due to shifts in land use (historic and current). 
We are also investigating soil suitability for stormwater recharge in suburban/urban environments, which is an important priority of suburban/urban center revitalization, sustainability and the stabilization of local economies.
Current Projects and Funding:
Site-specific hillslope and wetland hydrology identification using predictive wet soil probability modeling. (USDA-NRCS; USDA-AFRI; PA-DCNR).
Effects of shale-gas gas extraction on ecosystems: assessment, monitoring, and remediation (Heinz Foundation, PA-DCNR, Penn State Marcellus Center for Outreach and Research).
Improved reclamation practices for mineland and natural gas extraction operations (PA DCNR; OCP Morocco).
Greenhouse gas life cycle analysis of biochar effects
on marginal land conversion to switchgrass production (USDA-NIFA).
Urban soil characterization of vacant Land for stormwater management.
"Patriot Guardans": rebuilding the agriculture footprint of Appalachia with the West Virginia National Guard (USDA, WV Nat. Guard).
Atmospheric deposition fate and transport.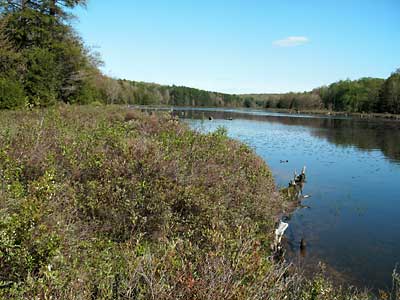 Dr. Drohan's laboratory and Dr. Elizabeth Boyer's laboratory are collaborating on an effort to advance understanding of the extent and degree of mercury accumulation in soils and watersheds across Pennsylvania, an area receiving some of the heaviest loads of atmospheric mercury deposition in the country. Our research combines soil mercury loading models with atmospheric loading models in an attempt to predict soils and watersheds at risk to mercury export.
Current Projects and Funding:
Predicting total mercury in Pennsylvania soils in order to predict potential stream Hg loading (PA-WRRC).
Identifying Pennsylvania watersheds at risk to Hg accumulation (PA-WRRC).
A hydropedological perspective of mercury distribution in soils of the Black Moshannon Lake drainage basin (PSU-Seed Grant).