Assessing Vegetation Potential Across Landscapes and Time
USDA-NRCS efforts to document Ecological Sites (Brown, 2010) have rapidly expanded, with the intent being to use each Ecological Site's State and Transition model (Bestelmeyer et al., 2010) as a means to enhance conservation planning.
A foundation for assessing soil change can be the Ecological Site (Creque et al., 1999, Duniway et al., 2010; Moseley et al., 2010; Townsend, 2010). Because soil is a key resource linked to many critical ecosystem functions, soil-change assessment is a key aspect of ecosystem monitoring (Herrick et al., 2006a). Gathering soil change information is especially important when assessing a soil's resistance or resilience (Seybold et al., 1999) to disturbance. For sustainable land management to occur, land managers and policy makers need sound, scientific information on changes in soil caused by both anthropogenic and non-anthropogenic factors (Tugel et al., 2005); our projects strive to meet this need.
Soil biogeochemistry and vegetation dynamics
Vegetation dynamics across the Northern Appalachians are derived from a complex evolution of geomorphic and anthropogenic disturbance histories. These include glacial and periglacial processes and/or historic surface mining and logging processes (Sevon, 1999).
Our present work is capturing current management effects on forests and wetland systems, and also examining organisms within these systems.
identification of Ecological Sites and their use in quantifying soil and accompanying ecosystem change via State and Transition Models in the northern Appalachians.
hydrogromorphic models as a means for predicting wet soil Ecological Sites.
parent material as a predictor of forage quality for white-tailed deer in the Northern Appalachians.
We have identified provisional Ecological Sites and associated State and Transition models in forested and wetland systems, and validated these models with field data. In addition we have examined how differences in States may be quantified and used to predict wildlife health for white-tailed deer populations.
Our vernal pool research spans our vegetation dynamics research and our soils and geomorphology research. Due to their unique physiology and role in essential ecosystem functions such as nutrient cycling and ecosystem succession, bryophytes often serve as bio-indicators of environmental change (Brown and Bates, 1990). In the Northcentral Appalachians, bryophytes are present in and around vernal pools, and their presence may reflect differences in the sequestration of soil carbon. We can use geochemistry, radiocarbon dating and palynology to examine species trends through time to better understand their origin and current survival trajectory.
Current Projects
Determine if patterns of bryophyte species richness and biomass correlate to the quantity and distribution of labile and recalcitrant soil organic carbon pools in vernal pools.
Utilize multiproxy indices and palaeoecological records to determine the genesis and development of vernal pools within the glaciated and non-glaciated regions of the northcentral Appalachians.
Hydrogromorphic models as a means for predicting wet soil Ecological Sites?
Can soil carbon attributes be predicted by MIR post-processed reflectance spectra measurements and operational pools of labile versus recalcitrant organic carbon.
Subaqueous soil genesis and biogeochemical characteristics.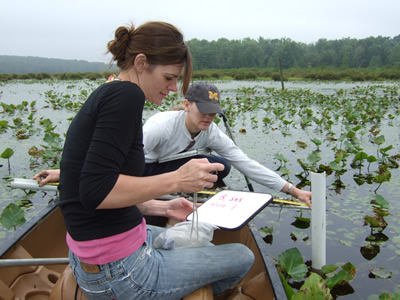 Present research on subaqueous soils in estuarine environments suggests such soils could be valued in the billions of dollars due to the direct and indirect benefits they provide in carbon sequestration, habitat support, flood and water quality protection. Our research is focused on assessing carbon sequestration in freshwater subaqueous soils and legacy sediments, and in determining the fate and transport of pollutants in watersheds from the well drained, to hydric, to subaqueous soil. In addition we are examining legacy pollutant fate and transport in freshwater impoundments.
Current Projects
Genesis of freshwater subaqueous soils in Appalachian Plateau impoundments.
Regional characteristics of Pennsylvania freshwater subaqueous soils.
Rapid pedogenic changes in subaqueous soils following drainage and flooding of an impoundment.
Shale-gas water treatment plant pollutant accumulation in downstream impoundments.